Why there's no such thing as a typical accountant at Haines Watts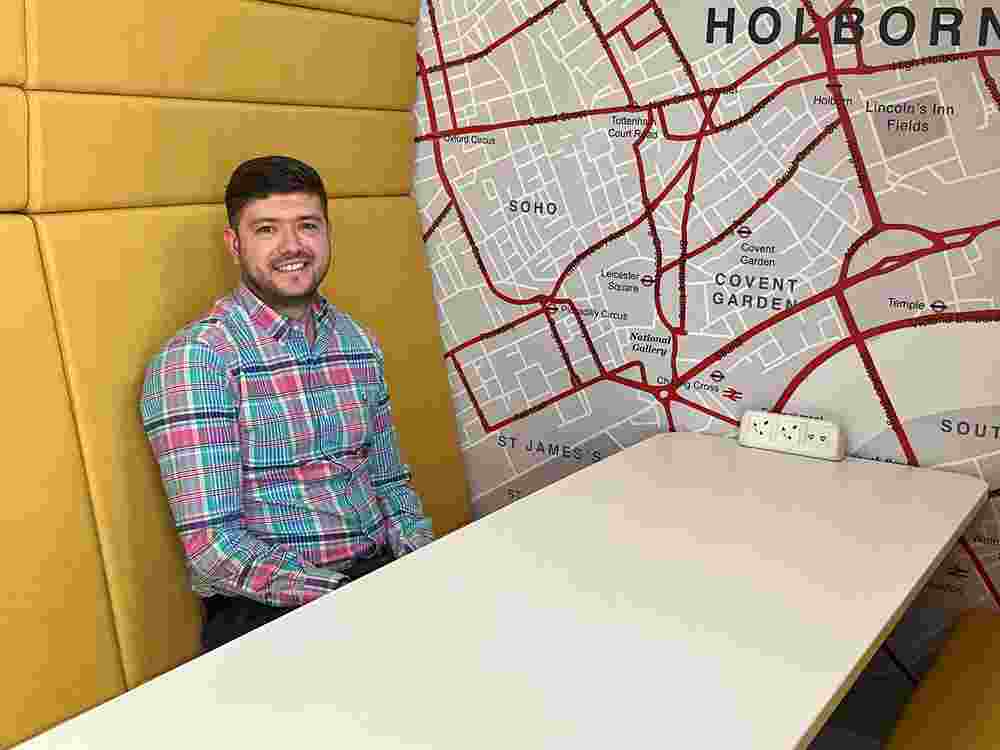 Accounting is a diverse and challenging field. There's no one archetype for success and no fixed career path you have to follow. We've built our business on helping our team discover their unique talents and giving them a place to thrive, so they can make a difference for our customers. It doesn't matter where you come from, just where you want to go.
James Maxwell is a partner in our London office. Since starting his journey with Haines Watts in 2008 as a trainee he's gone through a range of roles, locations and experience on his way to being a leader in today's organisation.
Here, he explains his unconventional journey and the lessons he's learned along the way.
From athletics to audit
A lot of people have a certain idea in their head when they hear the word 'accountant' in terms of background, education and life story.
That's not me.
If you'd asked me what I wanted to be when I was younger, I'd probably have chosen 'athlete'. I wasn't your traditional academic at school – I felt most at home on the sports field. It wasn't until my grandfather asked me what I'd do if that didn't work out that I even heard about accounting. In his view, it was one of three worthwhile careers (alongside medicine and the law).
Having suffered from dyslexia and dyspraxia my whole life, maths was one of the few subjects that came naturally to me, and clearly something stuck in my head.
My journey through education wasn't smooth. Despite getting into a good school based on my athletics performance, I struggled with the pressure of competing. Eventually, as I changed in my teenage years, sport fell by the wayside. My behaviour got worse. I struggled to get a place in college due to my bad reports. It was only through a chance visit to a friend that I ended up finding a place to study a GNVQ in Business. In the end, I achieved a distinction – and realised I wanted to keep going.
It wasn't smooth sailing from there though. I struggled with my mental health during my A-levels and didn't achieve what I wanted to, but eventually secured a chance place at Leeds Beckett University through clearing where I studied Accounting and Business Management, gaining a First.
From there I began investigating careers in finance and accounting. One of the first challenges was working out whether to do the CIMA or ACA qualifications, so I found a number to call that would explain the difference. It turned out to be a recruiter, who sent me for an interview with Haines Watts. I got the job.
And while in some stories, that would be the end, for me it was really the start.
Learning on the job
When I walked into Haines Watts, my knowledge of accounting was pretty limited. I didn't even know what double entry bookkeeping was. Luckily, this is a firm that prioritises education, mentoring and experience.
My journey took me from Slough, to London and back again, through our Business Development and Corporate Finance offices, to Finchley, and then London again. Part of the reason for this was that I was still learning how to fit in in a business environment.
Some said I was still finding myself, others said I had a chip on my shoulder. Either way, I had to learn some hard lessons about how to manage myself and my emotions in a professional environment. Despite me ruffling some feathers, Haines Watts stayed invested in me and my success.
The team always focused on my potential and kept supporting me, even when it was hard.
Over time I got stuck into the work and made constant improvement my obsession, obtaining my ACA. I also leaned into my particular strengths to help our audit business. I've always been a people-person and I realised I could improve success rates on our projects with clients that were happy to go the extra mile for us, helping deliver on time and on budget.
Advancing in the business became a matter of pride for me, to prove to myself that I could make it. I knew I could do it and I made it clear to everyone around me that I wanted to go all the way. After moving through Corporate Finance, Business Development and account management, I eventually found myself ready to become a partner, helping maintain relationships, project manage staff and work with clients on a consultancy basis.
The power of the right culture
Mentoring has been, and continues to be, a huge part of my story at Haines Watts. In my view this has nothing to do with management and everything to do with culture.
Personally, I'm indebted to the technical teaching of Gary Staunton, the personal guidance of Jonathan Moughton and the inspirational examples of Michael Davidson and Matt Perry. In my own role I try to pass on the same wisdom that I have benefited from, whether that's about navigating promotions, moves in and out of business, solving client issues or how to approach staff challenges.
It's the culture that has been the foundation of success at Haines Watts, for the firm and for me. When I first started here, the business had just acquired our Esher office. Since then, we have welcomed 20 more offices into the Haines Watts family, bringing in new faces, expertise and perspectives. Throughout this growth, it's the culture that connects everyone, passed on through the leaders of the business, of which I am now lucky to count myself one.
There's no typical accountant here – no stereotype and no rules. We're a team of individuals who come together to do important work for our clients. What connects us is our approach to the work we do. These values aren't just about a nice slogan on a poster - they're the glue that holds us together: value relationships, show passion and be authentic.
That last one is particularly important for me - to anyone looking for a rewarding career in this industry I'd say just come here and be yourself. It doesn't matter where you come from, just where you're going.
To check out our latest vacancies at Haines Watts visit our careers site.